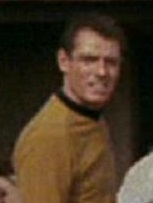 James Farley played the role of Lieutenant Commander Lang in the Star Trek: The Original Series episode "Arena". He filmed his scenes for "Arena" on Friday 11 November 1966 at the fortress set near Vasquez Rocks and Tuesday 15 November 1966 at Desilu Stage 9.
External link
Edit
Ad blocker interference detected!
Wikia is a free-to-use site that makes money from advertising. We have a modified experience for viewers using ad blockers

Wikia is not accessible if you've made further modifications. Remove the custom ad blocker rule(s) and the page will load as expected.