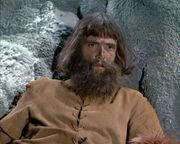 James Daris (born 13 November 1933; age 83) played the role of "Creature" in TOS: "Spock's Brain". He filmed his scenes on Tuesday 9 July 1968 at Desilu Stage 10.
He also made appearances in I Spy (with Sally Kellerman, Theodore Marcuse, and Alex Henteloff), I Dream of Jeannie, Land of the Giants (with Richard Carlyle and Steven Marlo), The Man from U.N.C.L.E., and Mission: Impossible (with Frank Orsatti, Leonard Nimoy, and William Shatner).
External link
Edit
Ad blocker interference detected!
Wikia is a free-to-use site that makes money from advertising. We have a modified experience for viewers using ad blockers

Wikia is not accessible if you've made further modifications. Remove the custom ad blocker rule(s) and the page will load as expected.