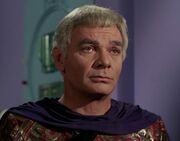 James Daly (23 October 1918 – 3 July 1978; age 59) played the immortal Flint in the TOS episode "Requiem for Methuselah". He was also the father of actors Tim Daly and Tyne Daly.
James Daly starred in Medical Center. Many Star Trek actors acted as guest stars on the show: Fionnula Flanagan (1976), Salome Jens (two in 1975 and a 1970), Brock Peters (1975), Meg Foster (1974 and a 1972 episode), Louise Fletcher (1973), Frank Corsentino (1971). Walter Koenig (1970), William Shatner(1970), and Bruce Davison (1970). Among his most memorable television guest spots is the classic The Twilight Zone episode, "A Stop at Willoughby". His final acting role was in Roots: The Next Generation with Paul Winfield and Brock Peters, which aired a year after his death.
Daly died of a heart attack in Nyack, New York.
Daly and DS9 guest star Joel Goodness were both born in Wisconsin Rapids, Wisconsin.
External links