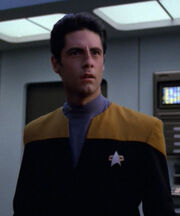 Jad Mager (born 26 February 1969; age 48) appeared as the character of Bajoran Ensign Tabor in two episodes of Star Trek: Voyager, "Nothing Human" and "Repression".
Mager began his acting career in the 1990 biopic thriller Reversal of Fortune as Alexander Von Auersburg. The film co-starred J.D. Cullum and Tom Wright. In 1991 Mager appeared in another biopic, the Oliver Stone directed The Doors with Frank Military, Mark Moses and Titus Welliver. Also that year, Mager played Alexander Onassis in A Woman Named Jackie with Stephen Collins, Bob Gunton, Wendy Hughes, Nan Martin, Mark Metcalf, Tim Ransom and Nancy Youngblut. Mager then was in 1993's Blue Flame with Joel Brooks. Mager appeared in 1997's Big City Blues with Guy Siner. In 2000 Mager acted in The Beach Boys: An American Family opposite David Spielberg, Ned Vaughn and Clay Wilcox. In 2001 Mager worked on his first animated film, Cowboy Bebop with Nicholas Guest. Also that year was the western Wooly Boys joining Keith Carradine and Rosanna DeSoto. Mager's most recent film credit is 2010's Falling Away with Tony Todd.
Television
Edit
External link
Edit
Ad blocker interference detected!
Wikia is a free-to-use site that makes money from advertising. We have a modified experience for viewers using ad blockers

Wikia is not accessible if you've made further modifications. Remove the custom ad blocker rule(s) and the page will load as expected.