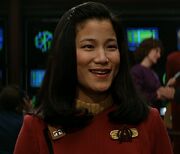 Jacqueline Joan Kim (born 31 March 1965; age 51) is the actress who played Ensign Demora Sulu in Star Trek Generations.
Kim is best known for her role as Lao Ma on Xena: Warrior Princess in 1997. She has often been mentioned as a candidate for the lead role in the proposed film versions of David Weber's Honor Harrington series of novels.
She acted with Sabrina LeBeauf in Howard Beach: Making a Case for Murder in 1989, in Trauma in 1993 with Brad Dourif, acted in Disclosure with David Drew Gallagher and Suzie Plakson in 1994, and acted with Whoopi Goldberg and Dominic Keating in 2001 in The Hollywood Sign.
Filmography
White Mile (1994, with Robert Picardo, Fionnula Flanagan, Dakin Matthews, Ken Jenkins, Dan Kern, Brian Markinson, Dan Gilvezan, Gina Ravarra, Brett Porter, Ken Thorley, Don McManus and stuntman Tom Lupo)
External links