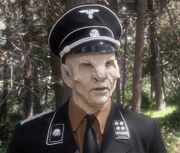 Virginia-born actor Jack M. Gwaltney (born 15 September 1960; age 56) played Vosk in the Star Trek: Enterprise two-parter, "Storm Front" and "Storm Front, Part II".
Gwaltney's first television appearance came in a 1987 episode of Spenser: For Hire, a series on which future Star Trek: Deep Space Nine star Avery Brooks was a regular. The episode Gwaltney appeared in also co-starred fellow Star Trek guest actor Thomas Kopache. He went on to become a regular on the soap opera As the World Turns from 1993 through 1995. He also appeared in several episodes of Law & Order (including one with Josh Pais) and its various spin-off shows.
In 1996, he starred with Keith Szarabajka in the short-lived drama Profit, and in 1998, he guest-starred in an episode of Homicide: Life on the Streets, starring Michelle Forbes. Other TV credits include episodes of Sex and the City (starring Kim Cattrall), CSI: Miami, and CSI: NY.
His film credits include Casualties of War (1989, with Vyto Ruginis, Steve Larson, and Sherman Howard), G.I. Jane (1997), and The Siege (1998). He also had a major supporting role in the 1990 drama Vital Signs, co-starring Jeanne Mori, Tim Ransom, Angelo Tiffe, and Wallace Langham.
Other Trek connections Edit
Additional film and TV projects in which Gwaltney appeared with other Star Trek performers include:
External link
Edit
Ad blocker interference detected!
Wikia is a free-to-use site that makes money from advertising. We have a modified experience for viewers using ad blockers

Wikia is not accessible if you've made further modifications. Remove the custom ad blocker rule(s) and the page will load as expected.