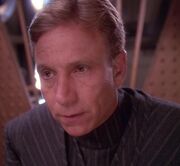 Jack Blessing (born 29 July 1951; age 66) was born in Baltimore, Maryland. He played the Department of Temporal Investigations agent Dulmur in the Star Trek: Deep Space Nine episode "Trials and Tribble-ations".
Blessing acted with Brad Dourif in Heaven's Gate in 1980. From 1986 through 1989, he was a semi-regular on Moonlighting, which was photographed by Jerry Finnerman. In 1987, he starred with Robin Curtis in LBJ: The Early Years. Also in 1987, he acted with Kirstie Alley in Summer School. In 1989 he acted with Robert Duncan McNeill in Mothers, Daughters and Lovers.
In 1990, Blessing starred with Olivia d'Abo in The Spirit of '76. He acted with Leslie Hope in Working Tra$h in 1990. In 1992 he starred with Robert Picardo in Samantha. In 1994, he guest starred in an episode of seaQuest DSV alongside Richard Herd. Jack starred in Murder One: Diary of a Serial Killer in 1997 with Alexander Enberg, and with Scott Bakula in Above Suspicion in 2000. Again in 2000, he starred with Bruce Thomas and Steven Culp in Thirteen Days.
Blessing played the recurring role of Jack Powers throughout the run of the Emmy Award winning series George Lopez.
External links
Edit
Ad blocker interference detected!
Wikia is a free-to-use site that makes money from advertising. We have a modified experience for viewers using ad blockers

Wikia is not accessible if you've made further modifications. Remove the custom ad blocker rule(s) and the page will load as expected.