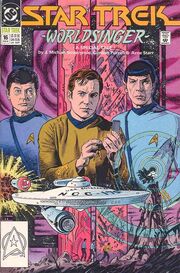 J. Michael Straczynski (born 17 July 1954; age 61), known to many fans as "JMS", is a writer known for work in both print and on the screen. As a comic creator, he scripted a single Star Trek issue, "Worldsinger", from DC Comics's volume 2 Star Trek: TOS series.
Straczynski has written for numerous genre franchises, such as The Real Ghostbusters and The New Twilight Zone, however he is best known for the creation of Babylon 5, a science fiction series written for television. B5, as it is sometimes known, began in 1993, and was considered by some to be a competition for Star Trek: Deep Space Nine, as both series were space station-based. B5 attracted a great deal of attention to the craft of television production, as Straczynski claimed to have mapped the series out from beginning to end at its inception. Numerous changes to his plots were introduced to B5 over the years, as necessitated by changes in actors and threats of cancellation, however the series still stands as an example of successful long-term serial storytelling, on a somewhat epic scale when compared to other episodic series of similar scope and production value.
In a news notice in the German Star Trek magazine Trekworld in June 1999 it was mentioned that Paramount Pictures offered Straczynski a chance to work on the Star Trek franchise but he refused because he didn't want to work on someone else's series and he thought that the Star Trek fans didn't like him.
In 2004, Straczynski worked on a treatment for "rebooting" the Star Trek franchise with Bryce Zabel, one that was ultimately turned down.
External links