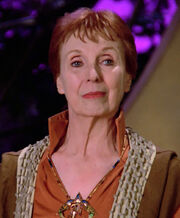 Ivy Bethune (born 1 June 1918; age 99) is the actress who played Duana in the Star Trek: The Next Generation episode "When The Bough Breaks". Bethune is also known for her role as Ma Peabody in the 1985 time travel hit film Back to the Future starring Christopher Lloyd, Tom Wilson, and costarring Sachi Parker and Jeff O'Haco.
External link
Edit
Ad blocker interference detected!
Wikia is a free-to-use site that makes money from advertising. We have a modified experience for viewers using ad blockers

Wikia is not accessible if you've made further modifications. Remove the custom ad blocker rule(s) and the page will load as expected.