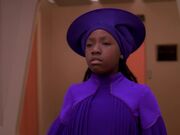 Isis J. Jones, also known as Isis Carmen Jones, is the actress who played the young Guinan in the Star Trek: The Next Generation sixth season episode "Rascals" in 1992.
Also in 1992 she played the younger version of Whoopi Goldberg's character in the comedy Sister Act, with Ellen Albertini Dow, Jim Beaver, Max Grodénchik, Michael Durrell, and Jeremy Roberts.
External link
Edit
Ad blocker interference detected!
Wikia is a free-to-use site that makes money from advertising. We have a modified experience for viewers using ad blockers

Wikia is not accessible if you've made further modifications. Remove the custom ad blocker rule(s) and the page will load as expected.