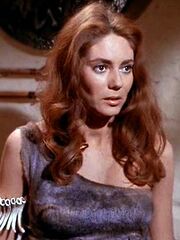 Irene Kelly made her television acting debut playing the role of Sirah in "The Omega Glory", a late second season episode of Star Trek: The Original Series. She filmed her scenes between Monday 18 December 1967 and Friday 22 December 1967 at Desilu Stage 11 and Paramount's B Tank.
Kelly went on to guest-star on Mission: Impossible later that same year. In 1970, she appeared in the Western comedy film Dirty Dingus Magee with Paul Fix, and in 1972, she starred in the western horror movie Enter the Devil. Finally, in 1978, she appeared in the pilot movie for BJ and the Bear, as well as an episode of Quincy with Whit Bissell, Robert Ellenstein, Robert Ito, and Garry Walberg.
She has since retired from acting.
External link
Edit
Ad blocker interference detected!
Wikia is a free-to-use site that makes money from advertising. We have a modified experience for viewers using ad blockers

Wikia is not accessible if you've made further modifications. Remove the custom ad blocker rule(s) and the page will load as expected.