Ad blocker interference detected!
Wikia is a free-to-use site that makes money from advertising. We have a modified experience for viewers using ad blockers

Wikia is not accessible if you've made further modifications. Remove the custom ad blocker rule(s) and the page will load as expected.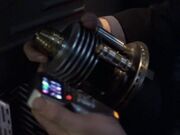 The ion distributor was a power distribution device on the command module of the Ares IV. Its operational principles were not dissimilar to that of a 24th century plasma manifold.
In 2376, after the Delta Flyer was disabled inside a graviton ellipse, Seven of Nine removed the ion distributor from the Ares IV and adapted it to channel warp plasma. (VOY: "One Small Step")