Ad blocker interference detected!
Wikia is a free-to-use site that makes money from advertising. We have a modified experience for viewers using ad blockers

Wikia is not accessible if you've made further modifications. Remove the custom ad blocker rule(s) and the page will load as expected.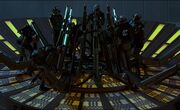 An interplexing beacon was a type of subspace transmitter utilized by the Borg that allowed long-distance communication between drones. Each drone had an implanted interplexing beacon with a unique translink frequency.
In 2063, after having traveled back in time from the year 2373, a group of Borg drones attempted to construct a large interplexing beacon on the USS Enterprise-E's navigational deflector in an attempt to contact the Borg of that time period in the Delta Quadrant. The beacon was destroyed by Captain Picard and Lieutenant Commander Worf, however, before the Borg had a chance to activate it. (Star Trek: First Contact)
In 2390, Harry Kim and Chakotay used a stolen Borg temporal transmitter to send a message back in time to Seven of Nine's interplexing beacon, in the year 2375, in order to save the USS Voyager, which had been destroyed in the Takara sector while attempting to utilize quantum slipstream drive to return to the Alpha Quadrant. By sending a new set of phase corrections to Seven, they were able to successfully change history by causing the slipstream to collapse, returning Voyager to normal space before the crash. (VOY: "Timeless")
Later in 2375, while using the Delta Flyer in an attempt to rescue Seven of Nine, who was being held aboard the Borg Unicomplex, Captain Janeway managed to send Seven a covert message via Seven's interplexing beacon. Janeway's transmission was eventually detected by the Borg Queen, however, who was able to trace it back to the Flyer's location. (VOY: "Dark Frontier")
External links
Edit