Ad blocker interference detected!
Wikia is a free-to-use site that makes money from advertising. We have a modified experience for viewers using ad blockers

Wikia is not accessible if you've made further modifications. Remove the custom ad blocker rule(s) and the page will load as expected.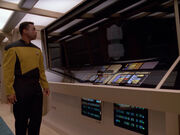 An interface probe was a type of Federation probe designed to be controlled remotely via direct connection to a person's brain and respond to the movements that the person intended to make. The person controlling the probe wore an interface suit which provided tactile sensations in order to feel as if he or she was experiencing the same environment as the probe. The probe was configured with both tractor beams and phasers and transmitted information via a focused particle beam.
Lieutenant Commander Geordi La Forge controlled an interface probe to virtually search the USS Raman for survivors when it became stranded in the atmosphere of Marijne VII. The interface was perfect for La Forge because his VISOR inputs allowed the probe to transmit information directly into his cerebral cortex. (TNG: "Interface")
See also
Edit