Inside Star Trek - The Real Story
Discuss

0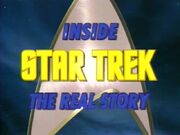 Inside Star Trek - The Real Story was a documentary based on the reference book Inside Star Trek: The Real Story, by Herbert F. Solow and Robert H. Justman. Produced and directed by Donald R. Beck, and presented by Solow, the documentary looked at the development and evolution of Star Trek: The Original Series from the perspective of the production staff.
The documentary was released as a single-volume VHS in the US on 3 November 1998, and with the Star Trek - Greatest Battles VHS collection in the UK on 16 November 1998. An English language laser disc edition was released in Japan in 1998.
The screenplay was by Solow himself as well as his wife Yvonne Fern Solow, whereas Patricia Rose Duignan served as supervising producer. In hindsight, the documentary which featured production staffers that were rarely featured in any other publication media, was a timely one, as half of the interviewees passed away within five years of the release.
Interviewees
In order of first appearance
External link