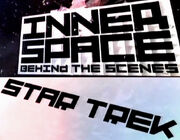 InnerSPACE: Behind The Scenes: Star Trek was a 22-minute documentary which aired in 2009 as part of the Canadian SPACE channel's InnerSPACE: Behind The Scenes television series. It was also broadcast by affiliates of the CTV television network as an eTalk special presentation.
The documentary was hosted by Ajay Fry and Ben Mulroney and featured clips from the 2009 Star Trek film interweaved with behind-the-scenes footage shot on set.
Interviews were conducted with J.J. Abrams, Roberto Orci, Alex Kurtzman, Damon Lindelof, Chris Pine, Zachary Quinto, Karl Urban, Zoe Saldana, Bruce Greenwood, Eric Bana, Simon Pegg, Clifton Collins, Jr., John Cho, Anton Yelchin, convention organizer Stephen Christian, illustrator Chris Cushman, and an assortment of costumed Star Trek fans.
The documentary was produced by Michelle Dudas and Johanna Ryan for SPACE and CTVglobemedia.
Ad blocker interference detected!
Wikia is a free-to-use site that makes money from advertising. We have a modified experience for viewers using ad blockers

Wikia is not accessible if you've made further modifications. Remove the custom ad blocker rule(s) and the page will load as expected.