Ad blocker interference detected!
Wikia is a free-to-use site that makes money from advertising. We have a modified experience for viewers using ad blockers

Wikia is not accessible if you've made further modifications. Remove the custom ad blocker rule(s) and the page will load as expected.
A novel that takes the crew of the USS Enterprise from the outer limits of time and space to the inner reaches of the Human heart.
From the book jacket

Years before they served together on board the USS Enterprise-D, Commander William T. Riker and ship's counselor Deanna Troi had a tempestuous love affair on her home planet of Betazed. Now, their passions have cooled and they serve together as friends. Yet the memories of that time linger and Riker and Troi remain Imzadi - a powerful Betazoid term that describes the enduring bond they still share.
During delicate negotiations with an aggressive race called the Sindareen, Deanna Troi mysteriously falls ill... and dies. But her death is only the beginning of the adventure for Commander Riker – an adventure that will take him across time, pit him against one of his closest friends, and force him to choose between Starfleet's strictest rule and the one he calls Imzadi.
Excerpts of copyrighted sources are included for review purposes only, without any intention of infringement.
Memorable quotes
Edit
"She's waiting."
- Mr. Homm, on opening the door to Admiral Riker

"No, to be honest, I saw very little of myself in him. To be honest, he reminded me of..."
"Of who?"
"He reminded me of my father."
- William T. Riker and Captain Picard, on Riker's older self

"All is as it was."
"For crying out loud, if you knew that time had been tampered with in the first place, and you knew that the admiral's actions were correct... then why in hell didn't you tell us that?!"
"You did not ask."
- The Guardian of Forever and Commander Blair
Background information
Edit
Characters
Edit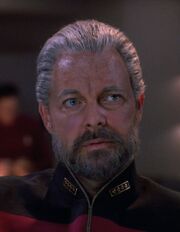 2350s-2360s - Starfleet lieutenant on Betazed.
2368 - Executive officer of USS Enterprise-D.
Captain of the Enterprise-D
2350s-2360s - Psychology student on Betazed.
2368 - Counselor of USS Enterprise-D.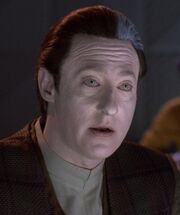 Other characters
Edit
2350s-2360s - Resident of Betazed.
2390s - On her deathbed, condemns Riker for Deanna's death.
Roger Tang 

Starfleet sergeant assigned to Betazed with Lt. Riker. Tang would later appear in Pocket DS9: The Siege.

Dann Lendann

Nici

Chafin 

Chafin appeared previously in Pocket TNG: Strike Zone and is named after the author's friend T.A. Chafin.

Tucker

Kathy Li 

Kathy Li had appeared in the earlier TOS era series of comics written by Peter David.

Sara Paul

Mark Roper

Grace

Wendy Roper/Wendy Berq

Gart Xerx

Chandra Xerx

Teb

Hirsch

Maror

Baytzah

Zroah

Charoset

Chazeret

Karpas

Sommers

Lorie

Lamont

Hauman

Margolin
Alternate timeline characters
Edit
Captain of USS Hood in the 2390s.

Blair 

Chameloid Enterprise-F science officer.

Blair's appearance was described as similar to Martia's beast form in Star Trek VI: The Undiscovered Country.
Mary Mac

Dexter 

Starfleet lieutenant, Admiral Riker's adjutant.

Eza/Mar Loc

Harry

Tennant
Mentioned
Edit
Charlie Brown 

(20th century "philosopher").
References
Edit
Byfrexians

USS Chance 

25th century survey vessel of Captain Tennant.

USS Enterprise (NCC-1701-F) 

Cordians

Cygnia III

Cygnus IV

USS Fortuna 

Captain Lansing's ship.

Gamma Delta

Gamma Origii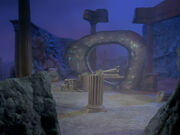 Federation starship in the 2390s under command of Captain Wesley Crusher.

Kreel

A race previously seen in Strike Zone.

Luss

Sindar

Sindareen

Starbase 86

Zetli
Timeline
Edit
External link
Edit