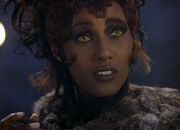 Iman (born 25 July 1955; age 62) is a Somali actress who played the chameloid Martia in Star Trek VI: The Undiscovered Country.
She was born in Mogadishu, Somalia as Iman Mohamed Abdulmajid, her first name meaning "faith" in Arabic. Outside of her acting career, she is a well-known model. From 1992 to 2016, she was married to musician / rock star David Bowie, with whom she has one daughter. She also has another daughter from a previous marriage to former basketball player Spencer Haywood.
She is the last actress to kiss William Shatner in a Star Trek production.
Filmography
Edit
External links
Edit
Ad blocker interference detected!
Wikia is a free-to-use site that makes money from advertising. We have a modified experience for viewers using ad blockers

Wikia is not accessible if you've made further modifications. Remove the custom ad blocker rule(s) and the page will load as expected.