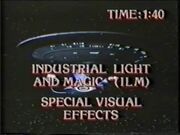 ILM Special Visual Effects, Star Trek The Next Generation was a short, 1.6 minute special, produced by Industrial Light & Magic in 1987 to promote that company's involvement with the upcoming new Star Trek: The Next Generation television series prior to its release. As a specialty promotional tool, it has been broadcast on a multitude of television channels at the time.
The special featured several ILM staffers at the time of preparation of filming the destruction of the Old Bandi City maquette for the pilot episode "Encounter at Farpoint". Interestingly, some of the footage of this shoot was edited out for this particular release, though much of it was incorporated later on as part of the much later 2002 TNG Season 1 DVD-special feature, "The Beginning". On the other hand, the only interview in this special, the one with Visual Effects Supervisor David Carson was longer than the one featured on the DVD release.
Ad blocker interference detected!
Wikia is a free-to-use site that makes money from advertising. We have a modified experience for viewers using ad blockers

Wikia is not accessible if you've made further modifications. Remove the custom ad blocker rule(s) and the page will load as expected.