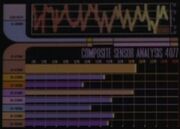 Hydrogen-alpha emissions were one factor that had to be closely monitored when revitalizing a star.
When Doctor Timicin attempted to revitalize Praxillus, two increases of hydrogen-alpha levels were an early sign that the experiment was going wrong, signaling that neutron migration was taking place during the experiment. This was unexpected, and ultimately led to Praxillus going nova. (TNG: "Half a Life")
Ad blocker interference detected!
Wikia is a free-to-use site that makes money from advertising. We have a modified experience for viewers using ad blockers

Wikia is not accessible if you've made further modifications. Remove the custom ad blocker rule(s) and the page will load as expected.