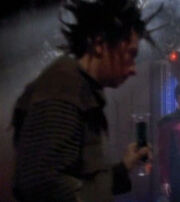 Howard A. Sands is an actor who was featured as a Human bar patron in the Star Trek: The Next Generation fifth season episode "Unification II" in 1991. As a background performer he received no credit for this part and was identified by the call sheet for this day, Wednesday 18 September 1991, on Paramount Stage 8.
Sands was also featured in episodes of Diagnosis Murder, Gabriel's Fire (starring Madge Sinclair), The Martin Lawrence Show, and Sabrina, the Teenage Witch. His film work include the science fiction comedy Coneheads (1993, with Michael McKean, Barry Kivel, Jason Alexander, and Cameron), the fantasy comedy Heart and Souls (1993, with Alfre Woodard and Kurtwood Smith), the documentary Ancient Prophecies 2 (1994), the science fiction comedy Men in Black (1997), the drama Fear and Loathing in Las Vegas (1998, with Larry Cedar, Richard Riehle, Ransom Gates, Gregory Itzin, and Jenette Goldstein), and the fantasy comedy Monkeybone (2001, with Whoopi Goldberg, Mary Stein, and Randall Bosley).
External link
Edit
Ad blocker interference detected!
Wikia is a free-to-use site that makes money from advertising. We have a modified experience for viewers using ad blockers

Wikia is not accessible if you've made further modifications. Remove the custom ad blocker rule(s) and the page will load as expected.