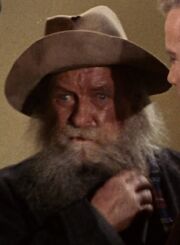 This article might be inaccurate
This page has been identified as needing attention. Please visit the article's talk page to see what needs fixing and feel free to edit this page to assist with this task.
Howard Culver (4 June 1918 – 4 August 1984; age 66) was an American bit actor whose chief claim to fame is his role as the hotel clerk for the entire run of Gunsmoke. He also had about twenty small movie roles and numerous other television guest spots, and was a frequent performer on Jack Webb's Dragnet television police drama.
He filmed his scene on Monday 6 February 1967 at Desilu Stage 11.
Appearances
Edit
External link
Edit