A new ship, a new crew, a new mission! – The Thallonian Empire has collapsed and Starfleet sends the USS Excalibur with Captain Mackenzie Calhoun to Sector 221-G.
Blurb

Sector 221-G: For the whole of Federation history, this large area of space has been controlled by the Thallonians, a cruel, militaristic race of which little is known – except that they rule the other races in their sector with vicious iron hand. Now the Thallonian Empire has collapsed and the systems it once ruled are in chaos. Old hatreds are surfacing. Petty tyrants control deadly weapons. World after world is descending into disorder and self-destruction. The Federation must send a starship to help where it can and report what it finds. That ship is the USS Excalibur, a newly refit Ambassador-class starship commanded by Captain Mackenzie Calhoun and manned by Starfleet's best and brightest, including some old friends from Star Trek: The Next Generation and some of the most dynamic new characters ever to crew a Federation starship. Join Captain Calhoun and the crew of the USS Excalibur as they explore strange new worlds, seek out new life and new civilizations, and boldly go where no one has gone before!
Excerpts of copyrighted sources are included for review purposes only, without any intention of infringement.
Background information
Edit
Characters
Edit
Canon characters listed below are linked to the main article about them. Non-canon characters are not linked, but those that recurred, appearing or being mentioned in more than one story, are defined further in New Frontier characters.
Main cast and recurring characters
Edit
Mackenzie Calhoun 

Starfleet captain of USS Excalibur
Starfleet commander, Excalibur executive officer.

Si Cwan 

Thallonian royal family member, a refugee of the Thallonian Empire collapse.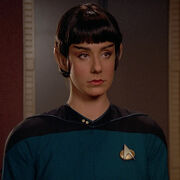 Starfleet medical officer, CMO of Excalibur.

Soleta 

Starfleet science officer. Soleta previously appeared in the Star Trek: The Next Generation - Starfleet Academy series.
Half-Vulcan ambassador.
Starfleet captain of the Enterprise-E.
Starfleet admiral.

D'ndai 

Xenexian.

Falkar 

Danterian.

Kally 

Nickname of Kallinda, Si Cwan's sister.

Morgan Korsmo 

Former captain of Excalibur.

Ryjaan

Yoz
Other characters
Edit
Kristian Ayre 

Enterprise-E conn lieutenant.

Barsamis 

Trader.

Bragonier 

Danteri.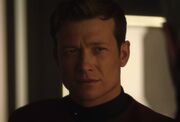 Stargazer officer.

Delina 

Danteri.

Giniv 

Seth Goddard 

Starfleet commander.

Voltak 

Selar's late husband.

Krassus 

Paige 

Enterprise-E tactical officer, a lieutenant

Zina
References
Edit
Calhoun 

Xenexian village.

Battle of Condacin 

One of a number of military conflicts where M'k'n'zy cemented his role as leader, and liberator, of Xenex.

Danteri 

Humanoid species.

Danterian Empire 

Federation starbase.
Federation Sovereign-class starship.
Ambassador-class starship.
Federation starship.

Mojov Station 

The Pit

Plains of Seanwin

Search for Allways

Sector 221-G

Sector 221-H

Thal

Thallon

Thallonian Empire 

Government.

Thallonian steed

Thallonian Summit

warhoon

Xenex 

Planet.

Xenexian 

Humanoid species.
Timeline
Edit
External link
Edit
Ad blocker interference detected!
Wikia is a free-to-use site that makes money from advertising. We have a modified experience for viewers using ad blockers

Wikia is not accessible if you've made further modifications. Remove the custom ad blocker rule(s) and the page will load as expected.