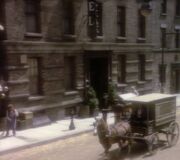 The Hotel Brian was a hotel located in the city of San Francisco on Earth in the late 19th century.
Commander Data of the USS Enterprise-D resided at this hotel in 1893, having traveled into the past from the year 2368. Jack London served as a bellboy at the Brian during that time. (TNG: "Time's Arrow", "Time's Arrow, Part II")
Unnamed personnel
Edit
Besides Jack, other personnel worked at Hotel Brian. When Data asked for a job, Jack ran down the list of others who worked there.
The cook was described as "decent". (TNG: "Time's Arrow")
Dishwasher
Edit
The dishwasher was drunk all day, but punctual. (TNG: "Time's Arrow")
The hotel was happy with the maid they had. (TNG: "Time's Arrow")
Ad blocker interference detected!
Wikia is a free-to-use site that makes money from advertising. We have a modified experience for viewers using ad blockers

Wikia is not accessible if you've made further modifications. Remove the custom ad blocker rule(s) and the page will load as expected.