Hot Wheels is a brand name used for many of Mattel's die-cast toys and was first utilized in 1968.
Mattel, one of the world's largest toy makers, announced in 2008 that it had acquired a license to produce merchandise based on the Star Trek franchise.
Including repaints, a total of fifteen die-cast metal and ABS plastic Star Trek starship miniatures have been released under the Hot Wheels brand. Each ship is said to be in "1/50 scale" (in reference to diecast automobile scales), measures from ten to seventeen centimeters in length, and is packaged with an adjustable plastic stand.
A smaller "1/64 scale" miniature was also released in 2013.
Releases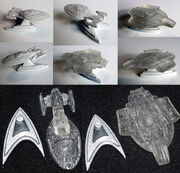 Series 1
San Diego Comic-Con International 2009 Exclusive
Series 2
Series 3
2013 Releases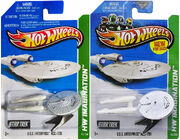 Mattel has announced the resumption of the 1/50 line in May 2013 and will release:
Unconfirmed additions may include:
"Klingon Battle Cruiser from Star Trek XII"
"New Movie Ship from Star Trek XII"
The company also released a smaller version of the USS Enterprise (alternate reality) in its 1/64 scale Imagination line in February 2013.
Notes
When first released, the packaging for the USS Enterprise (refit) was erroneously printed as "USS Enterprise NCC-1701-A". The packaging was corrected for Series 2.
The USS Enterprise (alternate reality) prototype was mistakenly produced with red bussard collectors which caused a four month release delay for the first production version of the ship. The color was corrected to blue before retail release.
The Enterprise NX-01's packaging mis-identifies the ship as the "U.S.S. Enterprise NX-01"
See also
External links