Hot Wheels is a brand name used for many of Mattel's die-cast toys and was first utilized in 1968.
Mattel, one of the world's largest toy makers, announced in 2008 that it had acquired a license to produce merchandise based on the Star Trek franchise.
Including repaints, a total of fifteen die-cast metal and ABS plastic Star Trek starship miniatures have been released under the Hot Wheels brand. Each ship is said to be in "1:50 scale" (in reference to diecast automobile scales), measures from ten to seventeen centimeters in length, and is packaged with an adjustable plastic stand.
Releases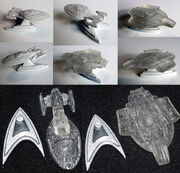 Series 1
Released in May 2009
San Diego Comic-Con International 2009 Exclusive
Released in July 2009
Series 2
Released in January 2010
Series 3
Released in September 2010 as a six ship set in the Star Trek Scene It? Ultimate Fan Pack Limited Edition and sold at Costco Warehouse locations in Canada and the U.S.
Future Releases
Mattel has announced the resumption of the line beginning in the first quarter of 2013. Aside from re-released models, the line is slated to release:
Notes
See also
External links