Notice
It has been suggested that this article should be merged with Homn.
You can discuss this suggestion on the talk page.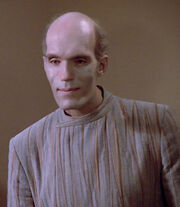 Homn's species were a pale-skinned humanoid race with two fin-like ears on their heads. They were significantly tall and seemed to possess a lot of physical strength. (TNG: "Haven", et al.)
Individuals
Edit
Ad blocker interference detected!
Wikia is a free-to-use site that makes money from advertising. We have a modified experience for viewers using ad blockers

Wikia is not accessible if you've made further modifications. Remove the custom ad blocker rule(s) and the page will load as expected.