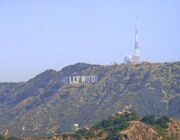 The Hollywood Sign was a famous landmark in the Hollywood Hills area of Los Angeles, California on the planet Earth. The sign spelled out the name of the area in fifty foot high white letters and continued to exist as late as 1996.
Both the Griffith Observatory and the Hollywood Sign were located in the Hollywood Hills. (VOY: "Future's End")
The Hollywood sign is visible from Bronson Canyon and had to be painted out for several episodes filmed there.
External link
Edit
Ad blocker interference detected!
Wikia is a free-to-use site that makes money from advertising. We have a modified experience for viewers using ad blockers

Wikia is not accessible if you've made further modifications. Remove the custom ad blocker rule(s) and the page will load as expected.