Deletion
Deletion has been suggested for this page according to the deletion policy. In the normal day-to-day operations of Memory Alpha, some pages are deleted for various reasons. This deletion suggestion and reasoning can be discussed on: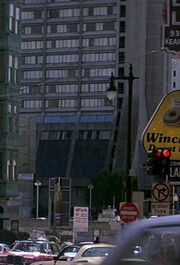 The Holiday Inn Chinatown was a 20th century San Francisco hotel. It was a large building near the corner of Kearny and Columbus Avenue in central SF, and could be seen from there. (Star Trek IV: The Voyage Home)
The building still exists, but has been converted into a Hilton hotel. Currently it is also obscured from the intersection from which it was seen due to the erection of new buildings inbetween.
External link