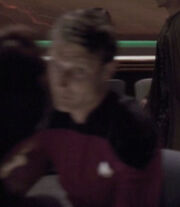 Hirner is the last name of the actor who appeared as a Ten Forward waiter in the fourth season of Star Trek: The Next Generation and as a command division officer in the fifth season. As a background actor he received no credit for his appearances. According to the call sheets, Hirner also appeared in the fourth season episodes "Qpid" and "The Host" but his scenes were not part of the final episode.
Appearances
Edit
Ad blocker interference detected!
Wikia is a free-to-use site that makes money from advertising. We have a modified experience for viewers using ad blockers

Wikia is not accessible if you've made further modifications. Remove the custom ad blocker rule(s) and the page will load as expected.