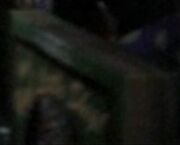 Hey! Hey! Little Ship! was a 24th century children's book, one in a series of "Rio and Buzz adventures."
The two primary characters were Rio and Buzz, anthropomorphized Starfleet spacecraft: Rio was a runabout, the Rio Grande, and Buzz was a Starfleet Corps of Engineers Work Bee; both were featured on the cover of the book.
Molly O'Brien had Hey! Hey! Little Ship! in her bedroom aboard Deep Space 9 in 2374. (DS9: "Time's Orphan")
Ad blocker interference detected!
Wikia is a free-to-use site that makes money from advertising. We have a modified experience for viewers using ad blockers

Wikia is not accessible if you've made further modifications. Remove the custom ad blocker rule(s) and the page will load as expected.