Ad blocker interference detected!
Wikia is a free-to-use site that makes money from advertising. We have a modified experience for viewers using ad blockers

Wikia is not accessible if you've made further modifications. Remove the custom ad blocker rule(s) and the page will load as expected.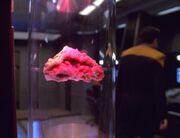 The hexi-prismatic field was an energy field that reacted directionally to sporocystian activity, like a compass.
In 2372, USS Voyager crew members placed the remains of the Caretaker into a hexi-prismatic field, so that if the remains responded to the sporocystian energy of another Nacene, they could locate the source. (VOY: "Cold Fire")