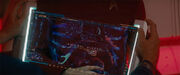 Hewlett Packard Enterprise was an organization involved with the Diagnostic Wrap technology, as well as other technologies used by Starfleet. (Star Trek Beyond)
Hewlett Packard Enterprise (or HPE) is a modern day company which partnered with the movie to feature their ideas on the future of technology. The company was represented in the finished work by its logo being integrated in the computer interface of the devices (the green rectangle center left in the above picture).
External links
Edit
Ad blocker interference detected!
Wikia is a free-to-use site that makes money from advertising. We have a modified experience for viewers using ad blockers

Wikia is not accessible if you've made further modifications. Remove the custom ad blocker rule(s) and the page will load as expected.