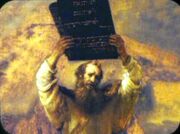 The Hebrew language was spoken in Israel and by Jews on Earth.
In 1996, a standard greeting containing Hebrew text was transmitted by Rain Robinson to the unknown object she had detected in orbit. The single word of Hebrew read peace, a standard salutation. (VOY: "Future's End")
While the word is intended to be שָׁלוֹם (shalom), it was misspelled as שׂלוֹם (solom).
An image of Moses holding the Ten Commandments was stored in the USS Enterprise library computer. The text on the tablets was written in Hebrew and read "You shall not kill. You shall not commit adultery. You shall not steal. You shall not bear false witness against your neighbor." (TOS: "The Cage" remastered)
Appendices
Background information
External links