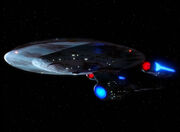 In starship classification, a heavy cruiser was a large multi-purpose starship, a term sometimes used synonymously with battle cruiser. While the Federation considered their Constitution-class starships to be heavy cruisers in their heyday, the Klingons referred to the same vessel, in their terms, as a battle cruiser. (Star Trek III: The Search for Spock)
Ambassador-class starships were classified as heavy cruisers. (TNG: "Conspiracy")
In an alternate timeline, the Ambassador-class was simply referred to as a cruiser. (TNG: "Yesterday's Enterprise")
Appendices
Edit
Background information
Edit
The term "heavy cruiser" was first used in the shooting script for Star Trek: The Motion Picture for describing the Klingon K't'inga-class starships. It was used later for an on-screen display of the Constitution-class, which was from the Star Fleet Technical Manual, and and it was spoken in reference to the Ambassador-class. It was thereafter picked up by the production staff on Star Trek: The Next Generation and Star Trek: Deep Space Nine in their behind-the-scenes technical texts (such as the Star Trek: Deep Space Nine Technical Manual).
In addition to the above, the following classes were referred to as "heavy cruisers" exclusively in the Star Trek: Deep Space Nine Technical Manual:
Rick Sternbach, in an interview with Star Trek: The Magazine, stated that the Sovereign-class was designated a heavy cruiser. (citation needed • edit)
In a dossier for the alternate reality USS Enterprise, her class, the Constitution-class, were classified as heavy cruisers. [1]
External links
Edit
Ad blocker interference detected!
Wikia is a free-to-use site that makes money from advertising. We have a modified experience for viewers using ad blockers

Wikia is not accessible if you've made further modifications. Remove the custom ad blocker rule(s) and the page will load as expected.