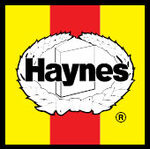 Haynes Publishing is a British-based publisher, founded in 1960. The company is noted for its "Owners' Workshop Manuals" - maintenance books for cars and motorcycles, featuring detailed schematics of the internal components and instructions on how to service them.
Haynes later expanded its "Manual" concept to cover other areas of transport - rail, air, sea, and space - as well as lifestyle works, computer maintenance, and books based on fictional vehicles and characters.
In 2010, Haynes published the USS Enterprise Owners' Workshop Manual, detailing the seven principal starships from the "prime universe". A follow-up, the Klingon Bird of Prey Owners' Workshop Manual, covering the B'rel-class scout, was released in November 2012.
External link
Edit