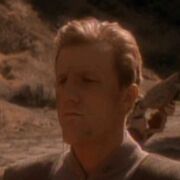 Harry Hutchinson is an actor who played a Bajoran trooper in the Star Trek: Deep Space Nine episode "Shakaar".
Hutchinson starred with Clint Howard in Backdraft in 1991. The next year he starred in The Babe with James Cromwell. In 1996 he acted with Vanessa Williams in Mother. He acted with Ron Canada in Home Alone 2:Lost in New York in 1997. In 1997 he and Harvey Jason acted in The Lost World: Jurrassic Park. Again in 1997 he acted in Air Force One with Dean Stockwell. Hutchinson guest starred in Babylon 5, Home Improvement, Cybill and ER.
External link
Edit
Ad blocker interference detected!
Wikia is a free-to-use site that makes money from advertising. We have a modified experience for viewers using ad blockers

Wikia is not accessible if you've made further modifications. Remove the custom ad blocker rule(s) and the page will load as expected.