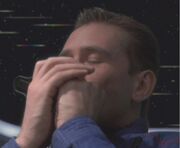 The harmonica is a small metallic hand-held musical instrument from the planet Earth.
Commander Trip Tucker owned a harmonica and sometimes played it in his quarters to relax. (ENT: "Precious Cargo")
Tucker traded his harmonica for a horse in the Skagaran colony. (ENT: "North Star")
The harmonica played by Commander Tucker appears to be a Honer CX-12.
External link