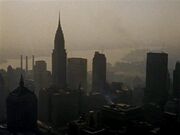 Harlem was a neighborhood in the New York City borough of Manhattan on Earth.
In a vision sent to him by the Prophets, Benjamin Sisko was Benny Russell, an inhabitant of the area. The offices of Incredible Tales magazine were also located there, in the Arthur Trill Building. It was also on the patrol route of police officers Burt Ryan and Kevin Mulkahey. The Rendezvous was a popular social and dance establishment there. (DS9: "Far Beyond the Stars")
External link
Edit
Ad blocker interference detected!
Wikia is a free-to-use site that makes money from advertising. We have a modified experience for viewers using ad blockers

Wikia is not accessible if you've made further modifications. Remove the custom ad blocker rule(s) and the page will load as expected.