Ad blocker interference detected!
Wikia is a free-to-use site that makes money from advertising. We have a modified experience for viewers using ad blockers

Wikia is not accessible if you've made further modifications. Remove the custom ad blocker rule(s) and the page will load as expected.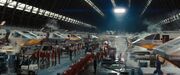 Hangar 1 was a Starfleet facility located in San Francisco in the 2250s. Located near Starfleet Academy, Hangar 1 was used for the storage and maintenance of shuttlecraft. This hangar had a room dedicated for the medical evaluation and treatment of hangar personnel.
In 2258, following a distress call from the Vulcan High Command, cadets were ordered to assemble in the hangar for assignment. The cadets received their assignments there, and then were ferried to the starships at the orbiting Starbase 1. (Star Trek)
| | |
| --- | --- |
| Assignments from Hangar 1 | Shuttles in Hangar 1 |