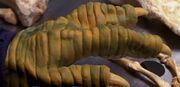 A hand was an organ on many humanoid species, the primary function of which was grasping, holding, typing, etc. The hand played an integral part in the sense of touch, since many humanoid species used their hands for tactile feedback.
Humanoid hands tended to vary with both number hands and number of digits on each hand: Voth and a species from Tau Alpha C had three fingers per hand, while Humans had five; as well, Edosians had three hands, while Terellians, and a pianist on Qualor II, named Amarie, had four hands.
See also
Edit
External link
Edit
Ad blocker interference detected!
Wikia is a free-to-use site that makes money from advertising. We have a modified experience for viewers using ad blockers

Wikia is not accessible if you've made further modifications. Remove the custom ad blocker rule(s) and the page will load as expected.