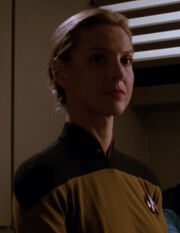 Hammers is the last name of the actress who played Ensign Locklin in the Star Trek: The Next Generation fourth season episode "Clues" in 1991. She filmed her scene on Thursday 29 November 1990 on Paramount Stage 9 and had a makeup call at 8:00 am.
According to the call sheets, Hammers was scheduled to appear in the fourth season episodes "First Contact" in a scene in engineering and "Identity Crisis" in a corridor scene but was either not filmed or cut from the final episodes.
Ad blocker interference detected!
Wikia is a free-to-use site that makes money from advertising. We have a modified experience for viewers using ad blockers

Wikia is not accessible if you've made further modifications. Remove the custom ad blocker rule(s) and the page will load as expected.