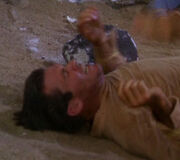 Hal Brett Needham (born 6 March 1931; age 85) is a retired stuntman and stunt coordinator who worked as stunt double for actor Gary Lockwood on the Star Trek: The Original Series second pilot episode "Where No Man Has Gone Before".
Needham performed stunts for numerous motion pictures, including The Big Country (1958), Shanendoah (1965, with Glenn Corbett and Paul Fix), Little Big Man (1970, with Jeff Corey and Alan Oppenheimer), Blazing Saddles (1974), Chinatown (1974, with Perry Lopez, Noble Willingham, Roy Jenson, cinematography by John A. Alonzo and music by Jerry Goldsmith), and The Longest Yard (1974). He also made a name for himself as a director, most notably for the stunt-filled racing films Smokey and the Bandit (1977) and The Cannonball Run (1981) and their sequels. He also directed the similar 1983 film Stroker Ace, which was co-produced by Laurel Goodwin and featured Warren Stevens in the cast.
Needham is one of the few Star Trek people to have had connections with NASCAR. He is known for having co-owned the #33 Skoal Bandit car driven by Harry Gant, along with Burt Reynolds.
External link