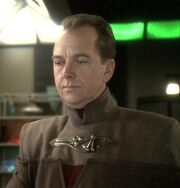 Hain was an associate of Morn's, involved in the Lissepian Mother's Day Heist along with Larell, Krit, and Nahsk.
Upon hearing of Morn's death in 2374, he posed as a member of Lurian Security. He informed Quark that Morn was the ex-crown prince of the Royal Family of Luria, and that his riches were their property. This was a lie created to double-cross the other thieves. When all the conspirators met up in a cargo hold that supposedly contained the latinum stolen in the heist, Hain and the other thieves began arguing and shooting at each other. It all turned out to be a set-up devised by Morn to allow Odo to arrest the thieves. (DS9: "Who Mourns for Morn?")
Hain was played by Trek regular Gregory Itzin.
The script described Hain as: "an imposing human Alien male".
Ad blocker interference detected!
Wikia is a free-to-use site that makes money from advertising. We have a modified experience for viewers using ad blockers

Wikia is not accessible if you've made further modifications. Remove the custom ad blocker rule(s) and the page will load as expected.