Ad blocker interference detected!
Wikia is a free-to-use site that makes money from advertising. We have a modified experience for viewers using ad blockers

Wikia is not accessible if you've made further modifications. Remove the custom ad blocker rule(s) and the page will load as expected.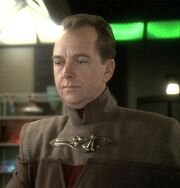 Hain was an associate of Morn's, involved in the Lissepian Mother's Day Heist along with Larell, Krit, and Nahsk.
Upon hearing of Morn's death in 2374, he posed as a member of Lurian Security. He informed Quark that Morn was the ex-crown prince of the Royal Family of Luria, and that his riches were their property. This was a lie created to double-cross the other thieves. When all the conspirators met up in a cargo hold that supposedly contained the latinum stolen in the heist, Hain and the other thieves began arguing and shooting at each other. It all turned out to be a set-up devised by Morn to allow Odo to arrest the thieves. (DS9: "Who Mourns for Morn?")