Ad blocker interference detected!
Wikia is a free-to-use site that makes money from advertising. We have a modified experience for viewers using ad blockers

Wikia is not accessible if you've made further modifications. Remove the custom ad blocker rule(s) and the page will load as expected.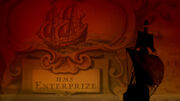 The HMS Enterprize, a British galleon, was a notable Human naval ship to bear the name "Enterprise". (Star Trek: Enterprise, opening credits)
No information on this vessel was given beyond its appearance in the opening credits of
Star Trek: Enterprise
. That she was British is assumed by her bearing the prefix "HMS". That she was a galleon was evidenced by her depiction.

Historically, the

Royal Navy

has had two ships named

HMS Enterprize (spelled with a 'z'): an eight-gun sloop captured from the Spanish in 1743, and a ten-gun tender later captured by the Americans in 1775. Neither were galleons.
External links
Edit