HMS Creative Productions, Inc. (HMS for short) is a Burbank, California-based special effects company that specializes in the manufacturing of studio props, the vast majority of them handheld. The company was founded in 1998 by Michael Moore and Steve Horch, a former employee of Science Fiction Modelmaking Associates (SFMA), after the latter went out of business. The company succeeded SFMA as a regular vendor of props, and has provided their products for Star Trek: Deep Space Nine (from season 6 onward), Star Trek: Voyager (from season 4 onward), and Star Trek: Enterprise, the television franchise being among their very first customers. Having produced a multitude of props ranging from handheld weapons to helmets, the more unusual props they manufactured were the full-sized warhead model for the episode VOY: "Warhead", as well as the Captain Proton accouterments. During those years property masters Joe Longo and Alan Sims served as primary liaisons between the company and Paramount Television.
Apart from the television productions HMS has been co-vendor of props for Star Trek: Insurrection and, more recently, Star Trek.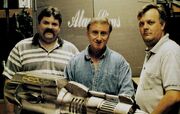 Apart from the movie, and television productions HMS also produced props, as well as set pieces, for the Las Vegas Star Trek: The Experience, and the Star Trek: The Exhibition tour of 1995-1998. They further provided Lincoln Enterprises with Star Trek-related limited edition merchandise. Another related activity was the providing of the prototypes for the 2003 Star Trek: The Original Series toy prop line of Diamond Select Toys. An unusual project, the company embarked upon, was the restoration of one of Wah Chang's two original Gorn masks from TOS: "Arena", after the company was sought out in 2006 by the winner of the item in the Profiles in History's Hollywood Auction 24.
Other projects
Still in existence, the services of HMS, remain in great demand, as they continue to provide services for movie, and television productions, toy manufacturers, museums and exhibitions, corporations as well as private contractors.
Staff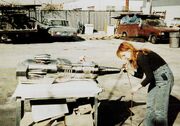 Steve Horch - (CEO)
Jim Key - Prop Maker (for Insurrection only)
Michael Moore - (CEO)
Further reading
"The Intergalactic Arsenal of Star Trek: Making classic TV and Film props", Jim Key, Sci-Fi & Fantasy Models International, issue 37, June 1999, pp. 26-30
"Behind the Scenes: Designing the Warhead", Star Trek: The Magazine Volume 1, Issue 12, April 2000, pp. 70-73
"Behind the Scenes: Creating the Weaponry for Captain Proton", Star Trek: The Magazine Volume 1, Issue 18, October 2000, pp. 82-85
External links