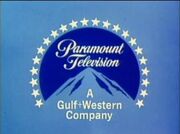 Gulf and Western Industries, Inc., commonly known as Gulf+Western, was a conglomerate that once owned Paramount Pictures and Paramount Television. The company renamed itself after its prime asset, Paramount Communications, in 1989 before being sold to Viacom in 1995.
Related topic
Edit
External link
Edit
Ad blocker interference detected!
Wikia is a free-to-use site that makes money from advertising. We have a modified experience for viewers using ad blockers

Wikia is not accessible if you've made further modifications. Remove the custom ad blocker rule(s) and the page will load as expected.