Ad blocker interference detected!
Wikia is a free-to-use site that makes money from advertising. We have a modified experience for viewers using ad blockers

Wikia is not accessible if you've made further modifications. Remove the custom ad blocker rule(s) and the page will load as expected.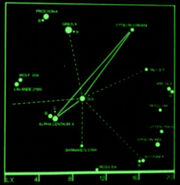 Groombridge 34 was a binary star system consisting of the stars Groombridge 34 A and Groombridge 34 B.
In 2364, the location of Groombridge 34 was labeled in a star chart of a stellar neighborhood with Sol at the center. This chart was stored in the USS Enterprise-D library computer. Later that year, the chart was scanned by Outpost 63. (TNG: "The Naked Now", production art; TNG: "The Last Outpost")
External links
Edit