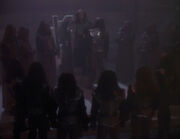 Greg Poole is an actor who worked as stand-in and background performer on Star Trek: The Next Generation.
He was the additional stand-in for Tony Todd in the fifth season episode "Redemption II" and also appeared as a Klingon warrior in this episode. Together with James Washington, Poole worked as stand-in for Michael Dorn and guest actors Paul Winfield and Richard Allen on the fifth season episode "Darmok". In addition, Poole portrayed a command division officer in the fifth season episode "Violations". His uniform was later worn by Bob Rivers in the Star Trek: Enterprise final episode "These Are the Voyages..." and was sold off on the It's A Wrap! sale and auction on eBay. [1]
Another episode on which he worked as additional stand-in for Michael Dorn was "Disaster". Poole appeared on screen again, in civilian gear in the fifth season episode "The Game" and in a corridor scene in the episode "The Perfect Mate".
Ad blocker interference detected!
Wikia is a free-to-use site that makes money from advertising. We have a modified experience for viewers using ad blockers

Wikia is not accessible if you've made further modifications. Remove the custom ad blocker rule(s) and the page will load as expected.