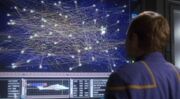 A gravimetric wave is an anomaly which occurred in areas of high gravimetric energy.
At least 1,000 years prior to the 22nd century, a race of transdimensional beings constructed a series of massive spheres, each one of which generated massive amounts of gravimetric energy. Powerful spatial anomalies existed wherever the gravimetric waves intersected, constituting an area of space known as the Delphic Expanse. (ENT: "Anomaly", "Exile")
Ad blocker interference detected!
Wikia is a free-to-use site that makes money from advertising. We have a modified experience for viewers using ad blockers

Wikia is not accessible if you've made further modifications. Remove the custom ad blocker rule(s) and the page will load as expected.